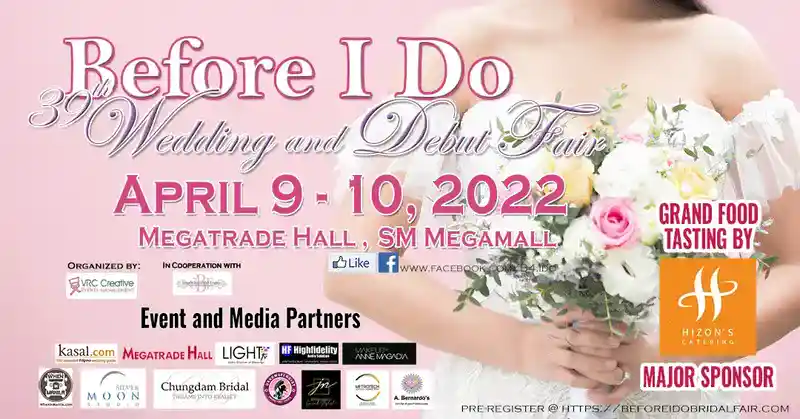 Before I Do: Wedding and Debut Fair planned to host its 39th Edition in 2020 but due to the lockdown, everything was put on hold. Now, after 2 years of moving wedding dates, soon-to-wed couples can now meet wedding suppliers and plan their wedding!
· This 2-day "Event Supplier Shopping" makes event planning fun, memorable and easy
· Hizon's Catering will have an all-day food tasting for registered couples
· This intimate bridal fair will be held at Megatrade Hall 2, SM Megamall, Mandaluyong City on April 9 and 10, 2022
Before I Do: Wedding and Debut Fair has been helping soon-to-wed couples and debutantes plan their event since 2005 making it the longest-running intimate bridal fair in Metro Manila. The two-day event is a must-attend activity, that provides couples and debutantes various options as they "shop" for their event suppliers under one roof.
While so much can be done online face-to-face bridal fairs such as Before I Do: Wedding and Debut Fair remain an important part of the planning process. Not only do couples and debutantes find exclusive discounts and promos during the fair but they will be able to get a feel of their suppliers if they are compatible on a personal level. This is something that you just can't find when dealing with suppliers online.
We missed the hustle and bustle of the bridal fair and small businesses that depend on our event are also excited to meet couples and debutantes face-to-face. We plan to make Before I Do a safe, successful, and fun event for all. As we fight against Covid-19, we want to make sure all attendees and suppliers can attend safely and have fun despite the social distancing. We have wider aisles to help decrease attendees from brushing past each other, sanitation stations will be available and everyone is encouraged to wear their face masks and to sanitize frequently.
Before I Do: Wedding and Debut Fair is fast approaching. If you are an event supplier who wants to join the event, shoot us an email at marketing@beforeidoweddingfair.com or if you are a soon-to-wed, you still have time to grab tickets for yourself and your entourage. Doors open at 10:00am. Couples and debutantes who register at http://bit.ly/BeforeIDo39thEdition can enter for FREE!