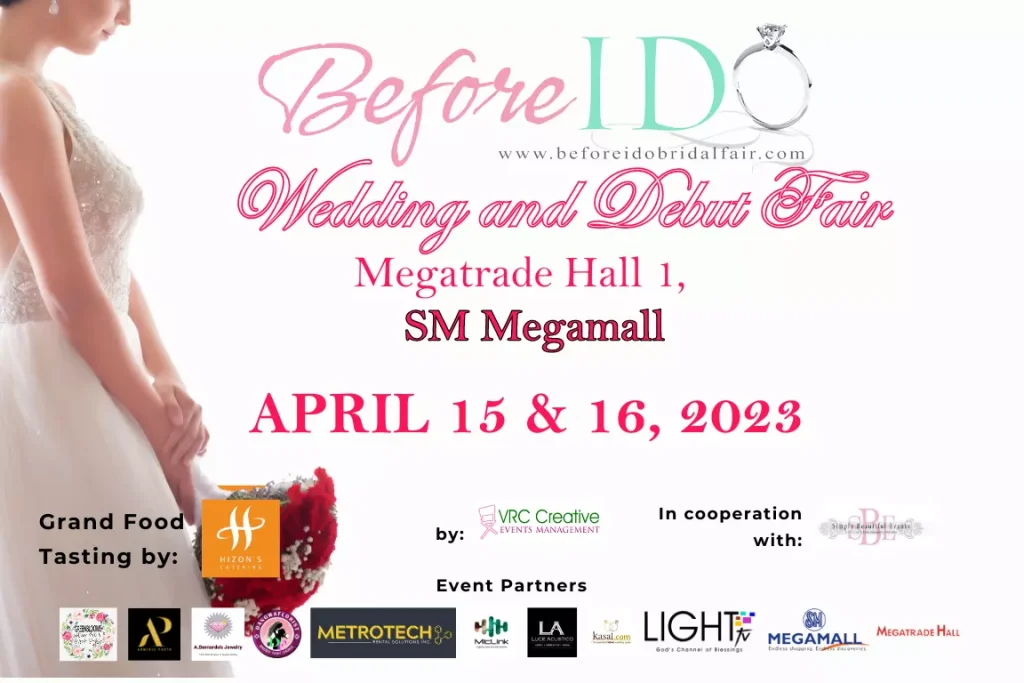 Brides-to-be and debutantes are in for a treat as the highly-anticipated Before I Do Wedding and Debut Fair is set to take place on April 15 and 16, 2023, at Megatrade Hall 1, SM Megamall.
This two-day event will bring together wedding and debut suppliers, showcasing their latest products and services in the bridal and debut industries. Attendees will have the opportunity to meet with industry experts and get advice on planning their dream wedding or debut celebration.
Is this your first time attending a bridal fair? Here are some tips when attending a bridal fair and looking to book suppliers for your wedding:

1) Do your research beforehand: Look up the suppliers who will be exhibiting at the bridal fair in advance, and make a list of the ones you're interested in seeing. This will save you time and help you focus on the suppliers who offer the products or services you need.

2) Come prepared: Bring a notepad and pen, as well as any photos or inspiration boards you've created for your wedding. This will help you communicate your vision to suppliers and keep track of the ones you like.

3) Ask for recommendations: If you know other couples who have recently gotten married, ask them for recommendations on suppliers they used and loved. You can also ask suppliers themselves for referrals to other professionals in the industry.

4) Take your time: Don't rush through the bridal fair. Take your time to visit each booth, ask questions, and gather information. This will help you make informed decisions and choose the suppliers that are the best fit for your wedding.

5) Check availability: If you find a supplier you love, ask about their availability for your wedding date. Some suppliers may be fully booked, so it's important to check early on to avoid disappointment.

6) Compare prices: Don't be afraid to ask about pricing and compare costs between suppliers. This will help you make informed decisions and stay within your budget.

7) Ask about packages and discounts: Many suppliers offer packages or discounts for booking multiple services. Ask about these options to see if you can save money by bundling services.

8) Review contracts: Before booking a supplier, review their contract carefully to ensure you understand all terms and conditions. Ask questions about anything you're unsure of, and don't be afraid to negotiate certain terms.

9) Get references: Ask suppliers for references from past clients, and follow up with those clients to get their honest feedback. This will help you determine if the supplier is a good fit for your wedding.

10) Trust your instincts: Finally, trust your instincts when choosing suppliers. If something doesn't feel right or you don't click with a supplier, it's okay to move on and find someone who is a better fit for you.
Among the suppliers that you can meet at the fair are Chandelier Events Place, Goldenhills Jewelry, Kyle Jewelry, Eleatist Kitchen, Estancia de Lorenzo, Enchanting Makeup Artistry by Ms. Mhaeyz, Citadines Ortigas, APerfectDayWedCar, Hizon's Catering and a lot more!
Admission to the event is free, and brides-to-be, debutantes, and their families and friends are all welcome to attend. With so much to see and do, the Before I Do Wedding and Debut Fair is the perfect place to start planning your dream wedding or coming-of-age celebration.
Couples and debutantes who are looking for the perfect catering partner for their special day are invited to register and reserve their seat/s for the FREE food tasting of Hizon's Catering. This is a great opportunity for them to sample Hizon's Catering's delicious and beautifully crafted dishes, which are known for their exquisite taste and presentation.
What are you waiting for?! Register NOW to reserve their seat/s and enter for FREE!

Before I Do: Wedding and Debut Fair is made possible with the support of Hizon's Catering, Kasal.com, LightTV-God's Channel of Blessings, A. Bernardo's Jewelry, MetroTech, MicLink Lights and Sounds Rental, GreenBlooms Flower Shop and Event Stylist, Armidia Photo, Dangwa Florist, Luce Acustico, Arumah Fresheners, Basileia Events Management, Megatrade Hall, and Simply Beautiful Events. 
The Before I Do Wedding and Debut Fair is produced and organized by VRC Creative Events Management Corp.
For more information, please visit https://www.beforeidobridalfair.com/