Teena Barretto is a fellow Weddings Beautiful Worldwide student. We often exchange text messages to help each other out. There was also a time when I helped her with one of her weddings by allowing some of my angels to work for her due to a double booking.
A few months back, I received a text from Teena asking if I can still accommodate a wedding on December 6, 2008, because she's already fully booked. I happily said yes. Teena also asked me to take good care of the bride because she is actually a friend of one of Teena's clients.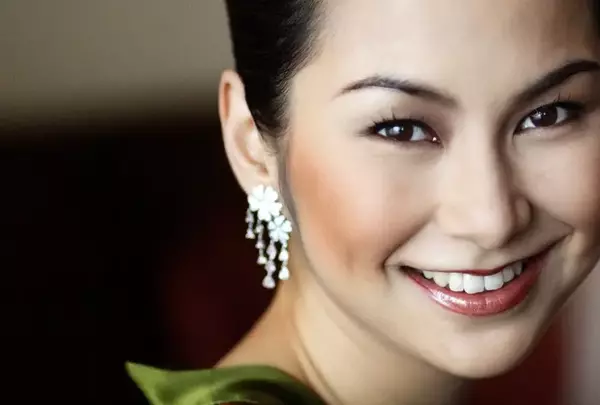 Nadia got us for OTD Coordination but we started working (consultation) months before her wedding. She's full of life and a very hands-on bride who can easily get her suppliers to say "yes" because she's very kind and sweet. It was fun working with her and if you were there on her wedding day, you would be amazed at the effort she invested to make her wedding an event to remember. When she went to Shanghai to study acupuncture for a few months, her sister was the one who took over the wedding preparations. At times, it was the Boy Blue (the groom) who I coordinated with.
Nadia is Chinese but we didn't follow all the Chinese traditions but there's still a long wait between the ceremony and reception (the wedding was at 1pm, cocktails were served at 4pm ended at 6pm, dinner was served by 6:30pm) and we had guaranteed guests of 500.
It was our first time at San Sebastian Church and the staff was very helpful. Everyone from the church was excited because this is the first time they witnessed a wedding celebrated by 16 priests.
The Rigodon Ballroom of Manila Pen was transformed into a Winter Wonderland Christmas by Eve and Co. To complement the theme, as an Architect, BoyBlue designed their own wedding cake which was perfectly executed by Penk Chink. What did it look like? It was an "iceberg" with penguins as a cake topper.
Wedding Details:
Prep Site: The Peninsula, Manila
Church: San Sebastian Church
Church Choir: Ateneo Chamber Orchestra
Unity Candle: Doc's Candles
Reception: The Peninsula, Manila
Event Styling: Eve and Co.
Make-up Artist: Patrick Rosas
Florist: Eve and Co.
Photo: Dino Lara
Video: Jason Magbanua
Projector: Jan Visuals
Wedding Cake: Penk Ching
Cocktails: Charlie's Pritchon
Entertainment: UE Chorale and Emerge Band
Sound System: RNB Sound System
Invitations: Printsonalities
Hi sam!
i just want to say thank you for everything you did to make this day very special for me & boy blue! sorry i didn't see you anymore when you left that night. i hope you got home in time for your father-in-law. i know stressed ka during the wedding, that's why i really appreciate all your efforts.
Thanks again & i hope you had a great time as well!
Nadia
Email received on December 9, 2008