You've done your homework. Booked everything that need's to be booked, signed contracts, and paid down payments. Everything is set. All you have to do is walk down that aisle and live happily ever after. But then CoViD19 happened. Soon to wed couples are taking the advice of the Inter-Agency Task Force for the Management of Emerging Infectious Diseases (IATF-EID) to limit their guests to avoid the possible spreading of CoViD19. As a result, more and more couples have postponed their wedding or opted to have an intimate wedding ceremony with plans of celebrating with the rest of their intended guests hopefully by 2021.
The IATF-EID initially issued guidelines in May 2020, which permit the conduct of religious gatherings in areas under Modified Enhanced Community Quarantine (MGCQ) and General Community Quarantine, provided that the number of participants is limited to only 5 and 10, respectively. In June 2020, the IATF-EID approved Resolution 43, which allows religious services at "50% of the seating capacity" in places under MGCQ. So, what now?
Below are 11 steps to take when postponing your wedding due to the pandemic:
Sit down with your fiance and talk things through. What are your plans moving forward? Will you have a civil wedding or an intimate church wedding for now and a big celebration with family and friends next year or move everything next year? This is the best time to practice your decision-making as a couple because this is just the first of many.
Check the validity of your marriage license and other legal papers. Your papers have a validity period. Your marriage license is valid for 120 days from the date the license was issued. Please note that you can acquire a marriage license at the Local Civil Registry from the city, town, or municipality where either you or your fiance habitually resides.Certificate of No Marriage Record(Cenomar) is valid for 6 months from the date of issue. The same goes for your birth certificate. So make sure that you are still within the validity dates. If not, you would have to request a new Cenomar, birth certificate, and marriage license.
If your papers are still valid, coordinate with your church about your new preferred dates and ask especially about their safety protocols. Because of the pandemic, having an entourage is not allowed and they have to be mindful of the health and safety of their church staff.
Talk to your Wedding Planner and ask for help to coordinate with your wedding suppliers about your decision if you'll cancel or postpone/reschedule. If you are going to reschedule, are your suppliers available on your preferred dates? Pindown your 3 preferred dates and communicate this to your wedding suppliers. This will make it easier for you and your Wedding Planner to identify what date everyone is free.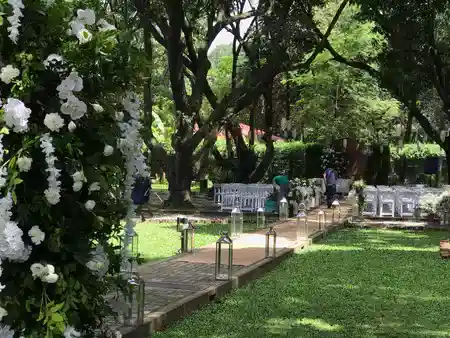 Whatever your plans are, contact your suppliers. Go over your contract and check their cancellation or postponement clause and come to an agreement on how you plan to move forward. If you plan to cancel, honor their contract and keep in mind that wedding suppliers are small businesses and are also affected by the pandemic. If you are to reschedule, keep in mind that a lot of couples are also rescheduling their wedding, so act fast. Don't forget to request a contract addendum for your new date. Also, keeping in mind that quarantine announcements keep on changing, plan for your Plan C, and even Plan D.
With so many weddings being moved, you can just imagine everyone trying to book a weekend wedding just like you. So be flexible with your date and consider a weekday wedding. You'll have a bigger chance of having all yourwedding suppliers available. If they are not available and you want to push for your new wedding date, you would have to cancel your contract and look for new wedding suppliers.
Regardless of what community quarantine we are in, inform your guests of your wedding plans. Call your guests and check on them if they are safe. Remind them of your change of plans or if they are concerned about the CoViD-19 and would not attend. This will also help you trim down your guest list. They would understand given the current risks of being present at gatherings.
If we're at an area with a community quarantine that would allow you to have at least 50% of the venue capacity, you can still go for your original wedding design. But if you'll have less than ten, it is best to rethink your overall design or the number of decorations you originally planned. Also, if your wedding follows a theme such as summer, fall, or winter, you might want to adjust depending on what month your new date would fall.
Since more and more couples are taking things online, why not create a wedding website where your guests can get information about your wedding? Make sure to update it to keep everyone posted. Keep everyone in the loop.
Allow yourself to feel grief and disappointment. It's important to release your emotions. We might be able to avoid the virus with the precautionary measures in place but nobody can avoid the stress that it gave everyone. So it's okay not to be okay. You are not alone. Everyone in the whole wide world is experiencing it. Seek out solutions to keep yourself mentally healthy and sane. 
Have a commitment ceremony on your original wedding date. Dress up any way you want and have a virtual gathering with your family and friends and recite your commitment to one another. This will still make your original wedding date special and is something that you can reminisce about in the years to come.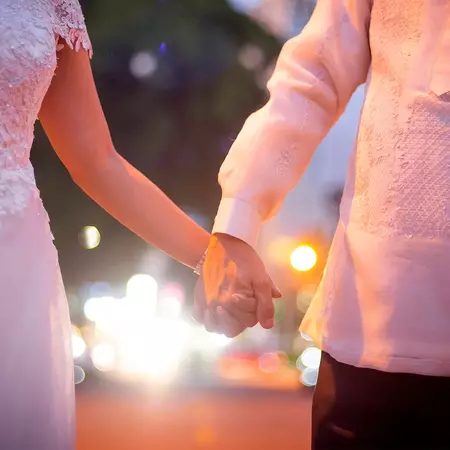 Tuloy ang kasal!
Deciding to postpone your wedding can be tough and painful at the same time. Once you've given yourself that time to grieve, start to think positively. Take things one step at a time and you'll get through it. And yes, you'll still get married, if not now then later. If you need any help, we would be happy to assist you in any way we can. Message us and let's get started.